Women's Folding Umbrella With Carrying Bag
Women's Folding Umbrella is lifted by hand when it is used. Although the main purpose of the umbrella was to block the sunlight when it was first invented, it is now often used as a rain-proof tool. Other functions of the umbrella include as a decoration, crutches and even weapons.
Legend has it that Lu Ban`s wife, Yun, is also a craftsman. "Jade Chips" also stated that she was the inventor of the umbrella. The first umbrella was used when she gave her husband a door to cover the house.
The word "umbrella" has appeared for a long time. She probably created an umbrella that can support. Who invented the umbrella? There have been many opinions on this issue.
Women's Folding Umbrella with Carrying Bag is designed to be the ultimate umbrella the user will ever need, no matter the situation.
Silver Coating Folding Umbrella is made of two pieces of cloth sewed together and it high-density water repellent fabric with floral screen print. To add its elegant and classic look, it has double ruffle lace that is made of yarn-dyed check fabric.
This Ruffle Lace Women's Folding Umbrella is well constructed for the user to use smoothly. It is very lightweight and designed for travel. From shaft to ribs is made of aluminum, a material that is very lightweight and durable. It has cut resistant properties to prevent finger cut. It has a snap button so the user can easily roll the umbrella to keep it insides its beautiful carrying bag.
The canopy is made of silver coating fabric with a layer of UV and water blocking coating, that protects user well from the heating sun and any expected downpours. It keeps the user's cool in the sun and safe in the rain.
Hyades is amongst the leading manufacturers, suppliers and distributors of high quality Silver Coating Folding Umbrella. Silver Coating Fabric is sourced from the most authentic vendors in the market. Our Women's Folding Umbrella with Carrying Bag is in adherence with international quality standards.
Related Products: Lightweight Chidori Pattern Auto Open Straight Umbrella | Lightweight Easy Carrying 3 Folding Umbrella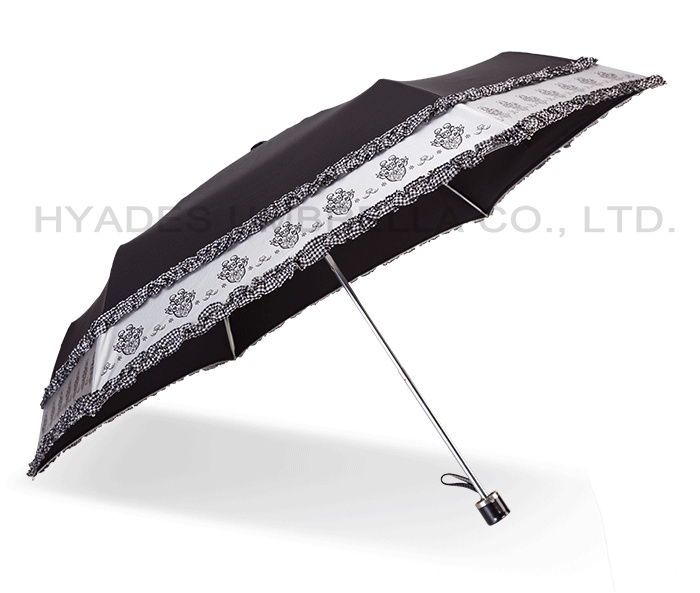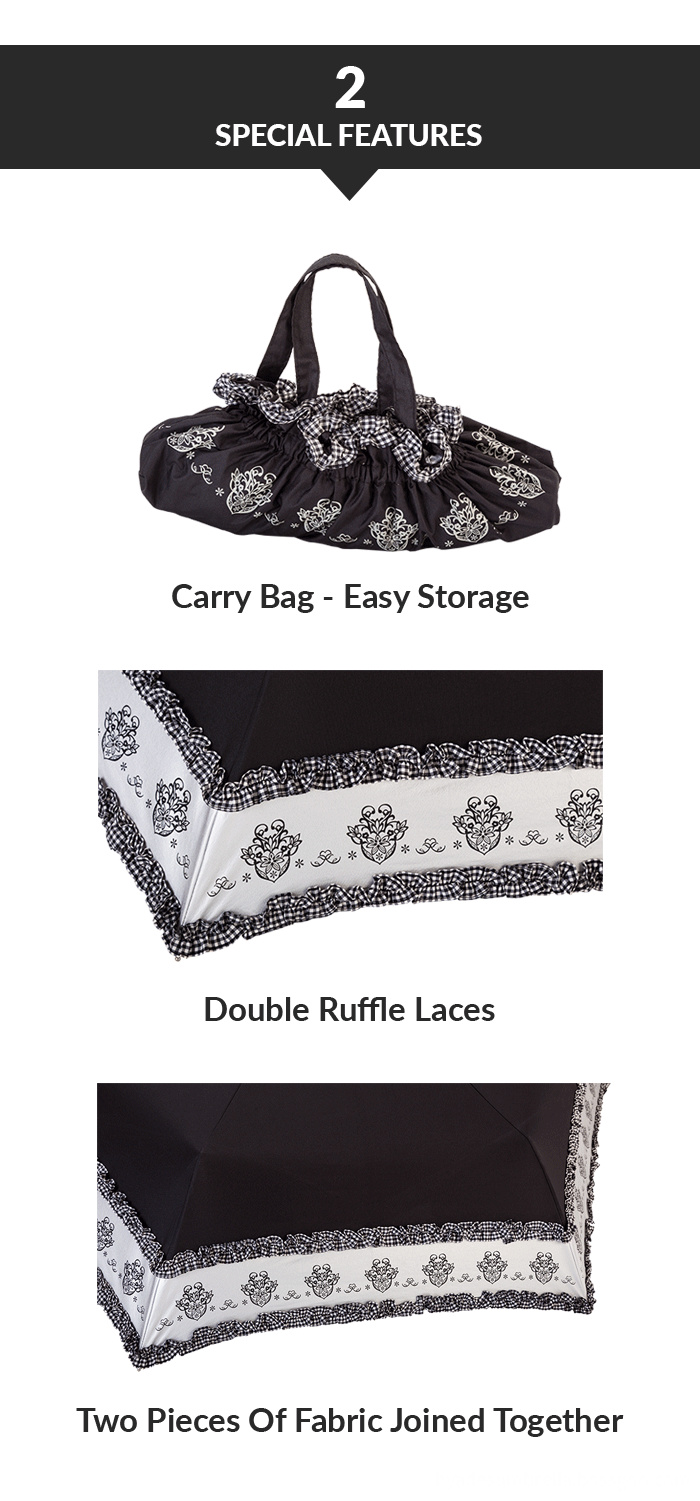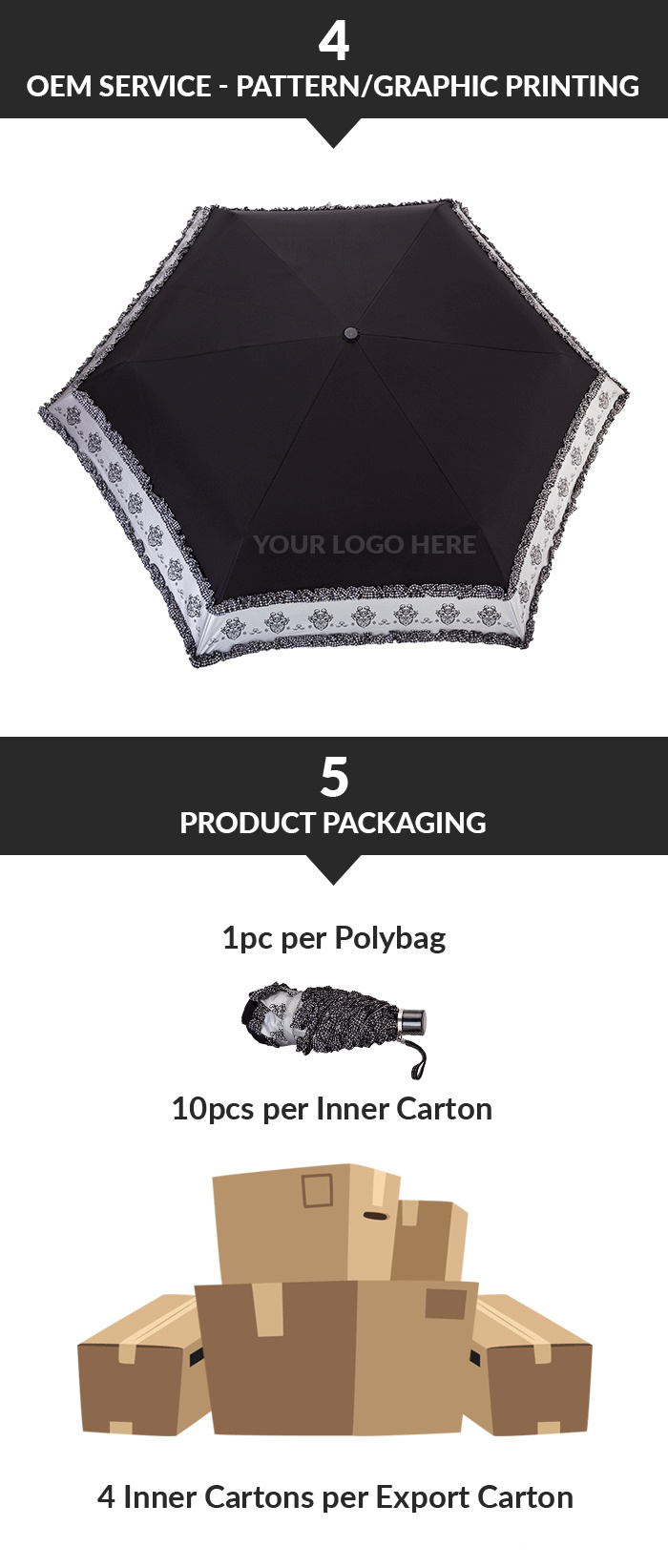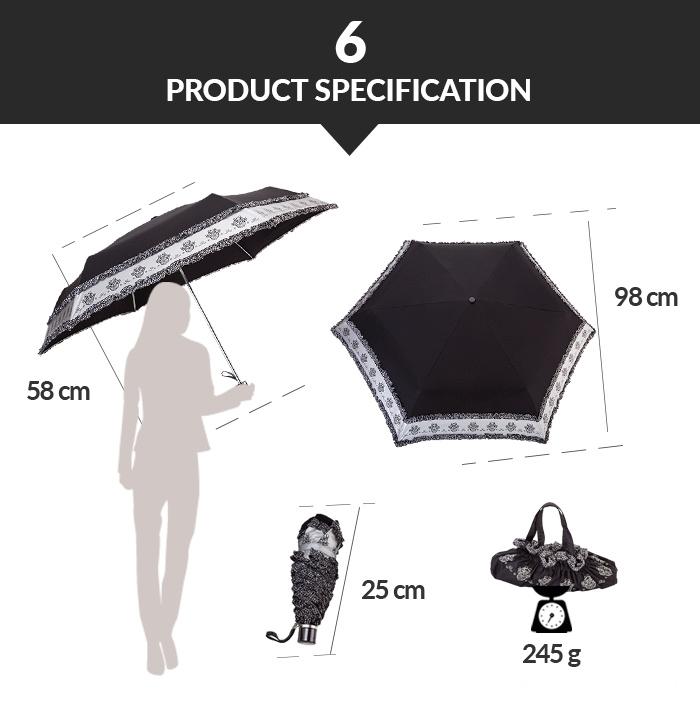 *Details:




| | |
| --- | --- |
| Weight: | 245g |
| Arc.: | 55 cm |
| Diameter: | 98 cm |
| Closed: | 25 cm |
| Height when open: | 58 cm |
| Sleeve: | Yes |
| | |
| Fabric: | 100% Pongee And Yarn-dye |
| Silver Coating: | Yes |
| Waterproof: | Yes |
| Water-repellent: | Yes |
| | |
| Frame: | |
| Shaft: | Alumium + Iron |
| Ribs: | Alumium+Fiberglass (FRP) |
| Handle: | Leather With Leather Strap |





About us:
Hyades Umbrella Co., Ltd. is a Taiwanese company specializing in manufacturing various upmarket and designer brand umbrellas. Our company's mission is to achieve the highest standard of quality in the field and to go above and beyond our client's expectations.
Our products range from stick umbrella's, folding umbrella's, auto open and close umbrella's, through to golf umbrella's. Children`s sizes through to adults – Men and women`s sizes and styles.